OVID in 2021: An End of Year Report
As 2021 comes to a close and our numbers finalize, I thought I ought to sum up in one place the main quantifiable changes in key areas of OVID's development, taking the opportunity to double-down on one of our founding principles: radical transparency.  
On the content side, the year was a busy one. We are now working with 38 content partners, and the total number of films and programs which are available on OVID grew by 34.5%, to 1,319 titles—1,021 of which are available in Canada. Our sortable and searchable list is maintained here.
On the membership front: While there were several months in the summer when our subscriber count flatlined, it did not drop, and this fall and winter have seen a reassuring increase again. While it may be too early to tell, it does seem that the momentum, since Christmas, may be modestly growing. Let's hope the rest of the month proves this. As of January 7, we've started new advertising campaigns on four websites, with a planned spend in January of $9,450. In February, we will advertise with The New York Review of Books for the first time.
Here is a summary of beginning and ending membership counts for 2021, with a graph below:
12/31/2020 12/31/2021 increase %
1390 1805 415 30% < Total including press and no charge subs
1285 1740 455 35% < Net Paid Memberships up 35%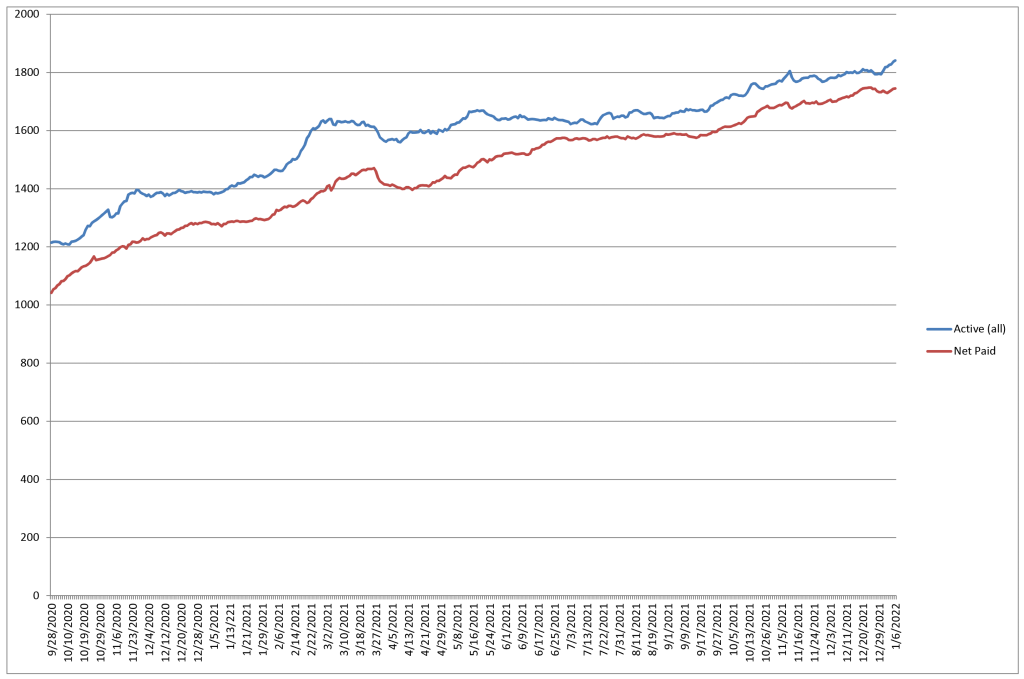 Member Movement
Below is a chart for our Conversion Rate (% of free trials that become paying subscriptions) and Churn rate (% of people who cancel each month). It has been a very challenging time in the SVOD business! People come and go A LOT! Luckily, it seems that our churn rate is below the "industry average"—and that those who stick around like us?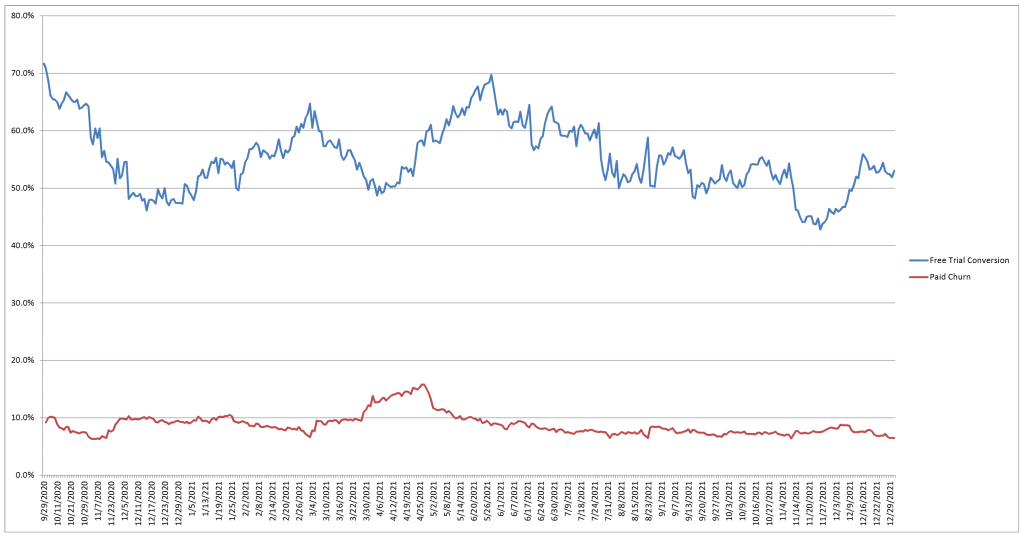 Conversion and Churn
On the finances: Our income went up by almost 35%, and royalties paid out to our content partners went up by almost 37%. We were able to cut our SVOD platform costs in half by switching over to Vimeo from Brightcove. So, our gross profit increased a fair amount, and we were able to spend a bit more on advertising, marketing and publicity. SVOD operations, our largest single expense still, covers the total labor costs of the people who work on OVID, excluding myself.
Thank you for your continued support. Whatever OVID is, and whatever hope it has of becoming, it is only thanks to the goodwill and support of all of you.
Jonathan Miller
Director, OVID.tv