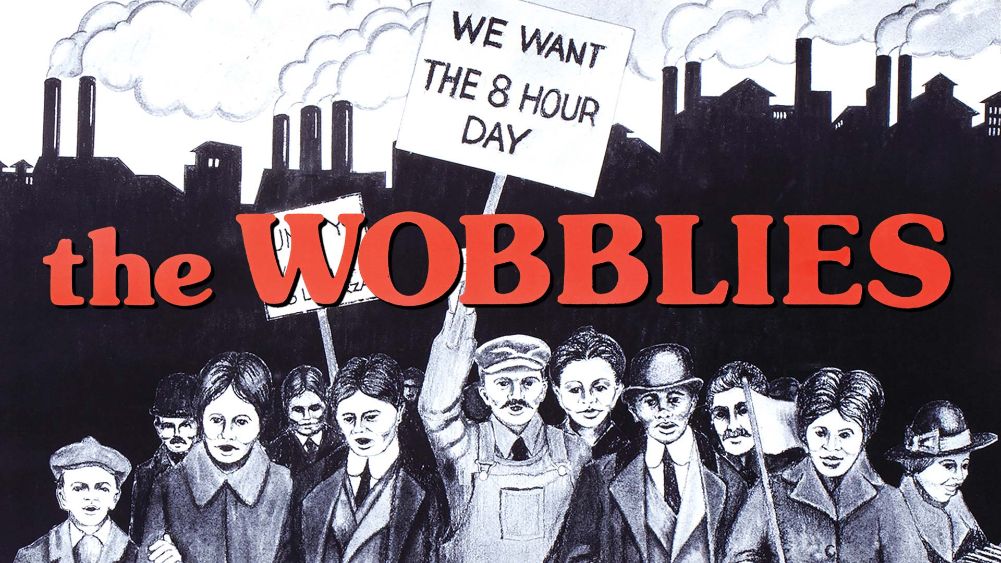 "The Wobblies", 1979-2023 – The Past is Present Again
By Deborah Shaffer
When The Wobblies was chosen to premiere at the NY Film Festival in 1979, Stew Bird and I could not have been prouder of what we had accomplished. More than 40 years ago, we could never have anticipated the resonance The Wobblies would have in the world today. The film had a good festival run, limited theatrical release (much less common for documentaries then than now), and a fair number of European television sales. In fact, it was so difficult to get documentaries theatrically distributed that Stew and I became founding members of First Run Features in 1980, along with the directors and producers of 2 other documentaries and a fiction feature (The War at Home, Joe and Maxi, and Northern Lights.) First Run Features is still a thriving distributor of independent films, having undergone several transformations over the years.
 Stew and I originally met as members of Newsreel, a radical, agit-prop filmmaking collective that had been formed in the late 60's primarily to make and disseminate films about the Vietnam War and the growing opposition to it, as well as other movements of the time like the Black Panther Party and the Women's Movement. We had not worked together – Stew was making a film called Finally Got the News, about the League of Revolutionary Black Workers in Detroit, and I was in New York working on films like Young Puppeteers of Vietnam and Make-Out. Along the way someone gave me a book called Mill Town, by Bill Cahn. It's a picture book, documenting the extraordinary Lawrence Massachusetts strike of 1912, which was successfully led and won by the Industrial Workers of the World, or the Wobblies. I had never heard of the IWW at that time and was shocked to learn both about them, and that Cahn's book had been suppressed in 1954 for being a Communist work.
 In the years after Newsreel, we scattered in different directions, but when I saw an ad for a play that Stew had written called "The Wobblies: The U.S. vs. Wm. D. Haywood etal." that was being showcased in New York City I made a point of going to see it. There were a couple of local IWW members in the audience that night, well into their 80's, who hung around to talk afterwards and it struck us that if their memories and experiences were going to be preserved it had to be now. We jumped in almost immediately, working with a small grant to shoot the first handful of interviews in the local area. One year of research, proposal writing and fundraising later, with an NEH production grant in hand, we were ready to tour the US filming all the surviving Wobblies we could locate.
 Remember, this was before cell phones, and even before computers! We located people by running personal ads in local magazines and left-wing newspapers, and by reaching out to networks of historians. Our biggest challenge was to find a Black Wobbly. We even resorted to handing out leaflets on the docks in Philadelphia with the headline "Was Your Grandfather a Wobbly?". Eventually a pastor led us to James Fair, whom he knew had been in the IWW.
Stew, myself and a camerawoman filmed from Buffalo to Everett, and from Chicago to Tuscon, driving and flying from place to place. We knew we didn't have much time, and that the film would be based on the oral testimonies of the rank and file members of the IWW. We didn't actually have a choice about that, as the well-known leaders had all passed away many years before. Using Stew's play as inspiration, we hit upon the idea of using the words of the leaders read by actors over photos and footage. That was a pretty radical filmmaking choice at the time – it hadn't really been done in documentaries before. We were also lucky to have a wealth of other materials available to us – original watercolors from itinerant painter Ronald Ginther, anti-IWW cartoons produced by Ford Motor Company and by Disney, the myriad, fantastic IWW graphics created for posters, flyers and stickers, and of course the music. The IWW organized with music, using popular tunes with their own radical lyrics. One of the best-know examples is "The Preacher and the Slave", written by IWW songwriter Joe Hill, and set to the tune of "The Sweet By and By". In an organization that reached out to all workers, including foreign-born, skilled and unskilled, literate and illiterate, music became not only a way of rallying spirits, but of communicating beyond language barriers.
The Wobblies were feared in their heyday, from around 1910 until the U.S. entered the first World War in 1917. Five months after entering the War, 101 Wobblies, including Big Bill Haywood, were arrested and tried for conspiracy. They were all convicted, and many were given long jail terms. They didn't stand a chance against the juggernaut of legal and extra-legal crackdowns, fines and deportations. The backbone of the organization was broken by the arrests, and the subsequent deportations carried out by A. Mitchell Palmer and his zealous young assistant, J. Edgar Hoover, in the infamous Palmer Raids. But many of the Wobblies survived the repression, and went on to become organizers in the great labor drives of the 1930's. They were the first to introduce the idea of industrial unionism to the U.S. and were an important precursor to the CIO.
When Stew and I made The Wobblies between 1977-1979, we thought we were preserving history and a valuable legacy for the future. We had no idea that the film would return to relevance in the early years of the 21st century, as unskilled and unorganized workers in industries across the U.S. are once again battling for basic rights of representation, non-discrimination, fair wages, and decent working conditions.
About the Filmmakers
Academy Award®-winning filmmaker Deborah Shaffer began making documentaries as a member of Newsreel in the 70's. She has made films about labor history, women's issues, human rights in Central and Latin America, and the arts. Her short film Witness to War: Dr. Charlie Clements won an Academy Award in 1986, and her films Fire From the Mountain, Dance of Hope, and To Be Heard have played at international film festivals including NY, Sundance, Tribeca and Berlin. Her most recent film, Queen of Hearts: Audrey Flack premiered at DOC NYC and won the Audience Award at the Hamptons Documentary Film Festival. To learn more about her work, visit her website.
Stewart Bird is a Bronx-born writer and filmmaker. He has written screenplays, novels, and the play "The Wobblies: The U.S. vs. Wm. D. Haywood etal." He has written and produced numerous television programs on social and cultural issues for PBS, Fox Television, and CBS News. He has produced and directed many feature documentaries including Finally Got the News, Retratos, Coming Home and Building the American Dream: Levittown, NY. To learn more about his work, visit his website.