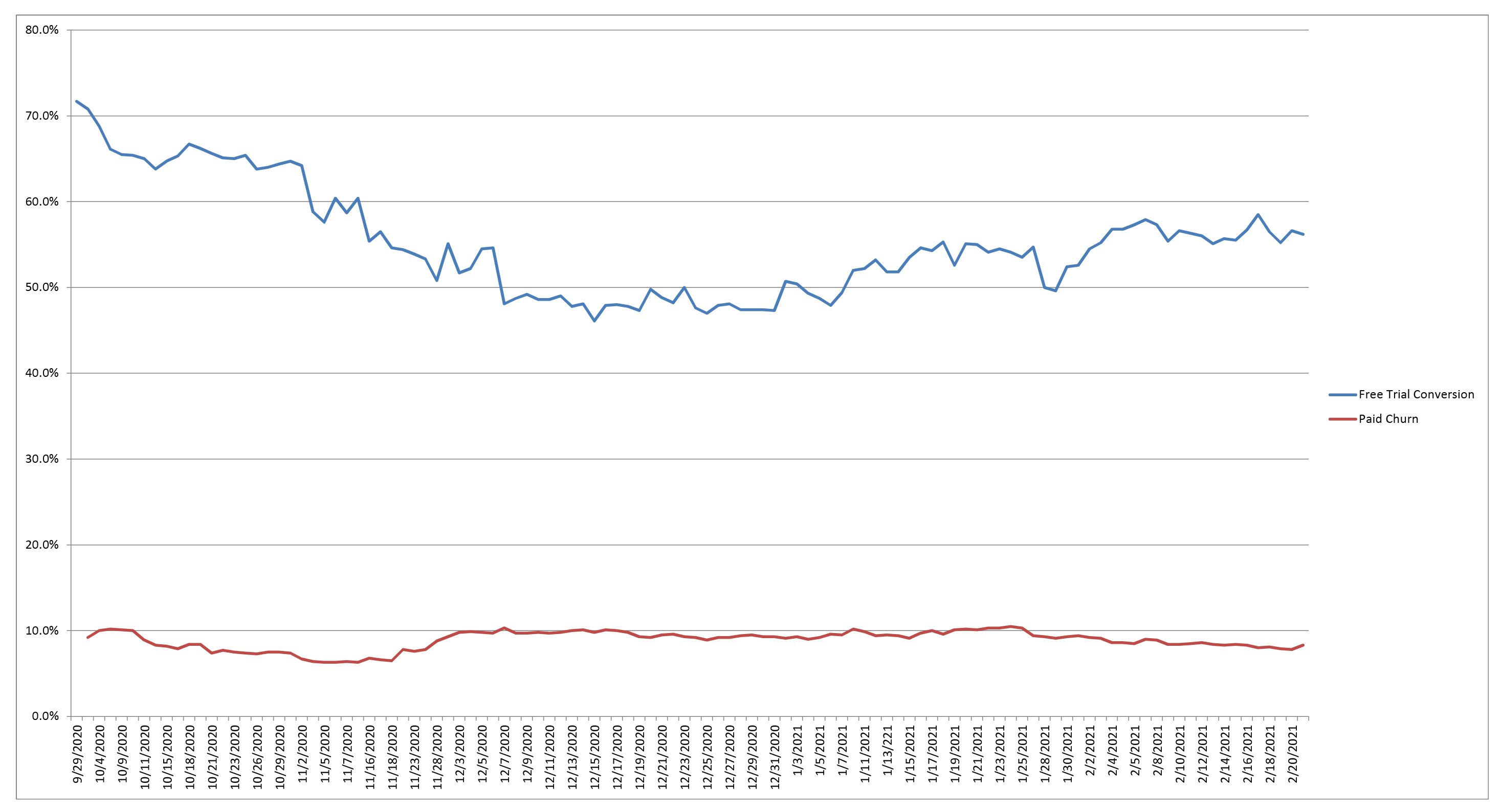 Under the Hood of a Subscription Streaming Service
Two of the metrics that we look at to see how well OVID is doing—to get a sense of whether we're moving in the right direction, or have a chance of surviving—are Conversions and Churn.
Conversions refers to the percentage of members who sign up for a free trial, and then stay and become paying subscribers for at least one month.
Churn refers to the percentage of paying members at the end of one month who end their subscription the following month. In other words, we have to replace these people with new paying members every month to stay even.
This information is generally closely held in the SVOD business. In fact, we are not aware of any other streaming service which has released this data.
A few notes on the above chart, and OVID's historical performance in these areas:
For much of last year our conversion rate was at 70% or above, which I believe is quite high (if anyone knows different, I would be glad to learn about it). As you can see, it fell throughout the fall and into the winter. We don't know why, exactly, but I would guess it had to do with a) many more SVOD services coming online and people jumping from platform to platform, b) perhaps our films were not as compelling as we reached the end of the year (?), and/or c) we did not add as many new titles from mid-December through mid-January.
It is reassuring that from mid-January it does seem that Conversions are heading back up. Let's hope they get to 60% at least, which I have a sense is an important benchmark.
Likewise, whereas historically our Churn rate was in the range of 7–8%, it increased in November and hovered at around 9.5% to 10% throughout much of January. Thankfully, this too has been moving in a better direction, recently lowering again to around 8%. I do think that our releases from mid-January throughout February so far have been more popular, and this may account for the improvement, perhaps along with the platform-jumping.
We would love to know about the experiences and trends of other services over the past year. I think it could help all of us concerned about a healthy media ecosystem, one with adequate spaces for independent, international, and alternative content (sorry, Marty) learn lessons, and do better. Which I think would benefit all of us: those who try and run streaming services, as well as, more importantly, those who wish to partake of them.
—Jonathan Miller, Director, OVID.tv