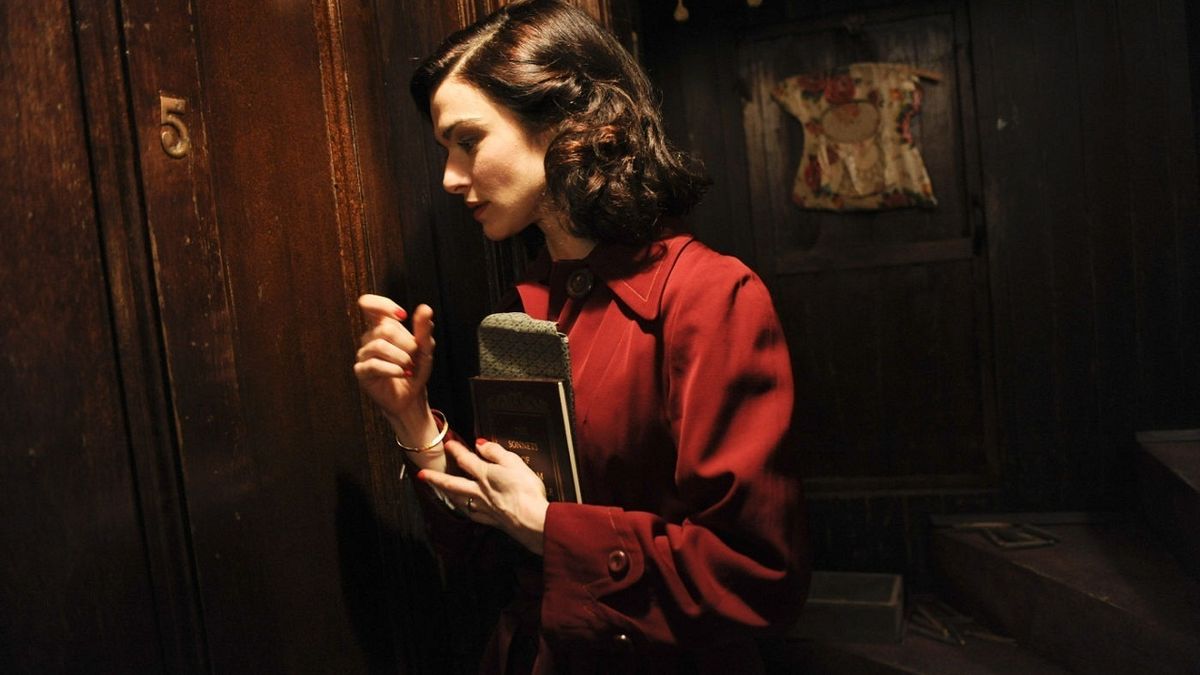 Popular This Week on OVID: Bettie Page Reveals All, Rachel Weisz and French Rebellions
The Deep Blue Sea

A film by Terrence Davies | Distributed by Music Box Films

In The Deep Blue Sea, Master chronicler of post-War England, Terence Davies directs Rachel Weisz as a woman whose overpowering love threatens her well-being and alienates the men in her life. In a deeply vulnerable performance, Rachel Weisz plays Hester Collyer, the wife of an upper-class judge (Simon Russell Beale) and a free spirit trapped in a passionless marriage. Her encounter with Freddie Page (Tom Hiddleston), a troubled former Royal Air Force pilot, throws her life in turmoil, as their erotic relationship leaves her emotionally stranded and physically isolated. The film is an adaptation of British playwright Terence Rattigan's 1952 play, featuring one of the greatest roles for an actress in modern theatre.

STREAM THE DEEP BLUE SEA ON OVID

https://youtu.be/R15ekRCq-eY
Transit
A film by Christian Petzold | Distributed by Music Box Films
In Christian Petzold's brilliant and haunting modern-day adaptation of Anna Seghers's 1942 novel, Transit Visa, Georg, a German refugee (Franz Rogowski, Happy End), flees to Marseille assuming the identity of a recently deceased writer whose papers he is carrying. There he delves into the delicate and complex culture of the refugee community, becoming enmeshed in the lives of a young mother and son and falling for a mysterious woman named Marie (Paula Beer, Frantz).

STREAM TRANSIT ON OVID

https://vimeo.com/262463902
La Commune (Paris, 1871)
A film by Peter Watkins | Distributed by Icarus Films
Inside a giant warehouse in a working-class Parisian suburb, Peter Watkins (The War Game, Edvard Munch) assembles a cast of over 200 non-professional actors (though their amateur status is undetectable). Basing their work upon thorough historical research, they will attempt to re-create the events of March, 1871—the rise and fall of the Paris Commune.
La Commune (Paris, 1871) explores that famous, brief, romantic and tragic period when poor and working-class Parisians rose up against the "bourgeois" French national government, which fled the capital and re-established itself in Versailles. As this complex historical drama unfolds, it is also "covered" by two television news crews: one from "National TV Versailles" which broadcasts the official version of events, the other from "Commune TV", giving voice to the rebellious Communards.
Mixing past and present, revolutionary in form as well as content, Watkins' audacious masterpiece forces us to confront notions of a safe or objective reading of the past, and also to reflect, inevitably, upon the present. No one who meets the challenge of La Commune (Paris, 1871) will be unchanged by the experience.

STREAM LA COMMUNE (PARIS, 1871) ON OVID

https://youtu.be/BZpKFBTutW8
The Trials of Henry Kissinger
A film by Eugene Jarecki | Distributed by First Run Features
Featuring previously unseen footage, de-classified documents, and revealing interviews with Kissinger supporters (Alexander Haig, Brent Scowcroft, and William Safire) as well as his detractors (Seymour Hersh, William Shawcross, and Christopher Hitchens), The Trials of Henry Kissinger explores how a young boy who fled Nazi Germany grew up to become one of the most powerful and controversial figures in U.S. history.

STREAM THE TRIALS OF HENRY KISSINGER ON OVID

https://youtu.be/_DtmPJxOQKU
Bettie Page Reveals All
A film by Mark Mori | Distributed by Music Box Films
Academy Award-nominated filmmaker Mark Mori's Bettie Page Reveals All is an intimate look at one of the world's most recognized sex symbols, told in her own words for the first time. In Mori's alluring documentary, the real Bettie Page emerges from the veil of myth and rumor via audio interviews taped a decade prior to her death in 2008.
With earthy, razor sharp wit, Bettie tells her life story—from humble beginnings as one of six children in an impoverished southern family, to high school salutatorian, to scandalous 50s pin-up model, to shocking retirement in 1957 at the peak of her modeling career. Sharing rare details about her short-lived first marriage and many torrid affairs, this keen insider's glimpse follows Bettie through decades of broken marriages, born-again Christianity, and bouts of mental illness, before her ultimate return to the public eye in the early 90s, unaware of her cult status.
Ranked by Forbes in 2012 as one of the top ten posthumous celebrity earners, Bettie and her enduring legacy continue to flourish. With a stunning array of gorgeous photographs, unusual archival material, and playful movie footage, Bettie Page Reveals All shows how Bettie's unabashed sexual expression and provocative poses set the stage for the sexual revolution and ushered in a modern era in fashion. For stars like Katy Perry and Beyonce, as well as new generations of adoring fans around the world, Bettie remains an irresistible style icon and an empowering role model.